 Online Seminar Series
Fri May 22nd 2020
---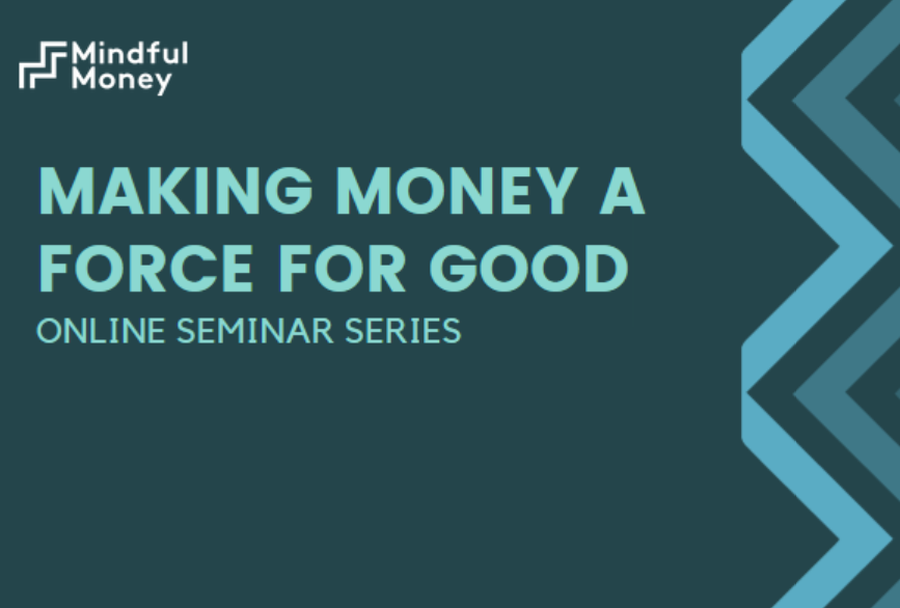 Online Seminar Series: Ethical investing in the COVID crisis
Join us each Thursday at 4pm on Zoom or Facebook Live (@MindfulMoneyMovementNZ)
In response to the global impacts being felt by every New Zealander during the COVID-19 outbreak, Mindful Money is highlighting the ways we can make a difference individually and ways that we can build back better as a society. Investing ethically makes sense in terms of climate action, environmental quality and social justice. There is a growing global movement to make investment a force for good, and we want to ensure New Zealand is at the forefront.
Welcome to this series of free and interactive seminars, bringing you insights from leading ethical fund managers, financial advisers and international experts in sustainability and finance.
4th June 2020: Thinking clearly about investing in a crisis. Mary Holm, financial advisor and media commentator. Register here.
11th June 2020: You can make a difference by investing ethically. Simon O'Connor, CEO of Responsible Investment Association of Australasia. Register here.
18th June 2020: Ethical Investing as a foundation for sustainable finance Sir Jonathon Porritt. Register here.
25 June 2020: Mindful Money - it's quick, easy and free to shift your KiwiSaver. Barry Coates and Karen Swainson from Mindful Money.
Past Events:
16th April: How ethical should a KiwiSaver fund be? John Berry, CEO CareSaver. View on YouTube or read the summary here.
23rd April 2020: KiwiSaver Disrupter: Simplicity's ethical low-fees model. Andrew Lance, CIO Simplicity. View on YouTube or read the summary here.

30th April 2020: How can ethical investing earn higher returns? David Beattie, CIO Booster NZ. View on YouTube or read the summary here.

7th May 2020: An Islamic & ethical mandate for KiwiSaver investment. Brian Henry, Founder of Amanah Ethical and Sandra Clark, Operations Manager. View on YouTube or read the summary here.
14th May 2020: Budget Day: Implications for investment and sustainability. Panel with business, finance and sustainability experts - Abbie Reynolds, David Hall and Bridget Coates. View on YouTube.
21st May 2020: The role of an independent expert ethical advisor – from KiwiSaver to portfolios of millions Dr. Rodger Spiller, Responsible and Ethical Financial Advisor. View on YouTube.
28th May 2020: What's ESG management and how does it make a difference? Extended Session (1hr) featuring Mercer, AMP Capital and Kiwi Wealth.