Seminar Series: How can ethical investing earn higher returns?
30th April 2020
Featuring David Beattie, Chief Investment Officer, Asset Management NZ, discussing how ethical investing can earn higher returns.
Seminar 3: How can Ethical Investing earn higher returns?
A discussion with David Beattie, Principal at Booster Asset Management
Barry Coates, founder and CEO of Mindful Money welcomed David and congratulated him for his 20 years working at Booster. David explained that Booster had become the main provider of ethical KiwiSaver options after they took over management of investment funds over the past two decades.
Booster has added to this starting point by broadening their exclusions to include fossil fuels, including some large petrol retailers. Their exclusions now also include weapons and GMOs as well as tobacco, gambling, pornography and alcohol.
Barry noted that the Mindful funds on Mindful Money's platform have significantly outperformed the average over the last quarter, in terms of returns after fees. David showed analysis over the past 3 months, 1 year and 3 years, showing that Booster's SRI Balanced Fund had achieved higher returns than the market average over each time period.
This reflects a large body of evidence internationally showing that returns from ethical funds are at least as high as conventional funds. The research busts the myth that there is a financial cost to ethical investing.
The question is how this was achieved. David responded by referring to higher returns for passive ethical funds (ie. funds that invest in a broad index of companies, with some exclusions) and the higher returns that can be achieved through active ethical management (ie. directly investing in selected companies).
The analysis below compares Booster's return to the average for a passive ethical fund (using Simplicity's Balanced Fund as a proxy) and the average for the overall KiwiSaver market. This shows the value of ethical exclusions (ie. the higher value that passive ethical funds earn) that Simplicity has been able to achieve, and the further value that Booster has added through using active management of part of their portfolio.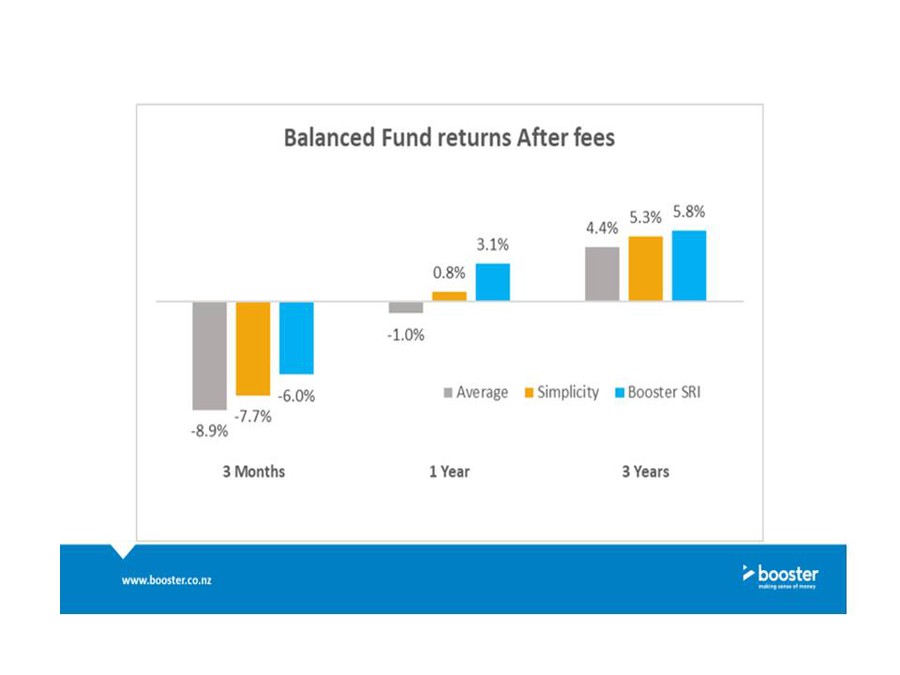 Barry Coates thanked Booster for their sponsorship of the seminar series.
Booster Socially Responsible Investment funds
Booster has two Socially Responsible Investment funds which are featured as Mindful funds on the Mindful Money website. Click on the links below to see details on their funds, or click here to see what your current fund is investing in.

With thanks to our principal sponsors - Generate KiwiSaver, Harbour Asset Management, Booster Asset Management, and Sustainalytics; contributing sponsors - AMP Capital, Harbour Asset Management, Mercer and Milford Asset Management; and supporting sponsor - Devon Funds Management.