Ethical Investment Guide
You have the right to decide what your money is supporting. We have created this guide so you can feel secure, empowered, and confident in whatever financial decisions you make.
You have the right to decide what your money is supporting.
We have created this guide so you can feel secure, empowered, and confident in whatever financial decisions you make.
We know that many New Zealanders want to invest ethically but don't have the objective information and research to compare the options. This guide outlines the simple steps to transition your money to reflect your values.
It's quick, easy and free.
Why Invest Ethically?
Most Kiwis are aware of the ways that their purchases have an impact on climate change, the environment, or people.
Not buying factory-farmed eggs or cosmetics tested on animals. Choosing fair trade, less carbon-intensive or lower waste products. Walking more and driving less. These are all small changes in our lives that collectively put pressure on companies to change their behaviour.
Investing is no different. How we choose to invest our money makes a real impact.
It's up to you to decide whether that's a negative or positive impact.
---
You can earn good returns
It's a myth that investing ethically means lower returns. In fact, research has shown that ethical investing earns returns that are as high or higher than conventional investing.
Why are the returns on ethical investment proving so high?
This is because companies with high sustainability standards are the most trusted companies. They have loyal customers and motivated employees. They have lower risks – they don't get sued for environmental damage and they don't operate in declining industries like coal or oil. As a result, their financial returns are high.
By contrast, there has been a string of companies that have behaved badly and suffered financially as a result - VW, BP, Enron, Solid Energy (Pike River mine).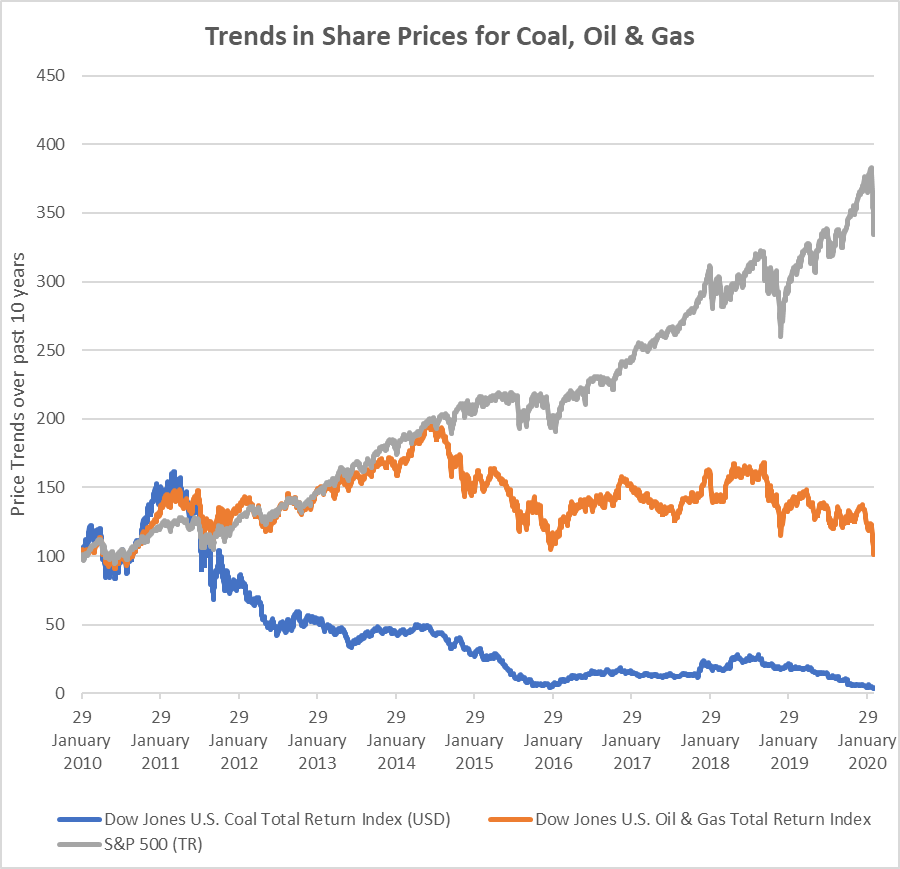 As an example, the chart above shows the value of investments in fossil fuel companies over the past ten years against the S&P 500. Since 2015, there have been ample warnings about the high risk of unusable oil, gas and coal reserves – our planet would fry if we used them all. These 'stranded assets' are likely to be worthless.
This chart shows the trend. Over the past 5 years, the average price of shares (S&P500 index - Grey) has almost doubled while the Oil & Gas Index has halved (Orange), and coal has collapsed (Blue). More than half the coal mines in the US have shut down and the biggest coal company went into bankruptcy. By contrast, cleantech and sustainability sectors are growing rapidly.
---
Where is Your Money Currently Invested?
Do you know where your money is currently being invested? It's important to know which companies you are funding, and what those companies do.
It's easy to find out, all you will need to know is:
Which KiwiSaver fund or investment fund provider you are with
What type of fund you are in (conservative, growth, etc).
Try it – you'll be surprised!
We have created a simple checker that can be used to find out what your money is currently being invested in.
This checker gives you the full picture – not just the companies your fund invests in indirectly, but also the indirect investments through the funds they invest in.
Your investments are matched with the issues that most Kiwis are concerned about, as measured through our annual surveys.
Check your fund
Don't know who your KiwiSaver fund is with? No worries, you can find this out through MyIR or by calling 0800 KiwiSaver.
You can then decide whether that's OK, or if you can use the Fund Finder to find a more ethical option.
"I thought I was already invested in an ethical KiwiSaver. However, Mindful Money showed me that there is a difference between what I call "responsible" investing and what the big banks do. Plus it made taking action on this information really easy."
— Tania Hack
Even though most Kiwis want their fund providers to avoid unethical investments, $4.1 billion of KiwiSaver funds are invested in the sectors that are of most concern.
Choosing a fund that aligns with your values will ensure that your money isn't being used to fund harmful impacts, but instead, more of your money is used to support good companies and positive impacts.
---
What are the Different Ways to Invest Ethically?
Let's help you to understand the different ways you can invest ethically.
Traditional Funds

These are most investment funds. Their purpose is to manage risk and earn returns, and they ignore the impact the companies have on the environment and society.



Ethical or Responsible Investing

There are three main approaches:
Avoid harm
These funds screen out the sectors which cause social or environmental harm, for example, tobacco, fossil fuels, etc...

Engage
Most funds now use Environmental, Social, and Governance (ESG) factors to evaluate companies and reduce their risks. These funds usually exclude the worst companies and engage with others as an active shareholder to improve their ESG performance

Better companies
Some funds target investments into businesses with higher ESG or sustainability standards like All Good Organics or Kathmandu



Impact Investing

Investing to directly create a measurable, positive impact, while still making a financial return. Examples of 'impact investing' are investments in renewable energy, social housing, or healthcare. A related but broader concept is tikanga-led investing, which has embodied this approach within a te Ao Māori worldview.


---
Impact Investment in New Zealand
The concept of creating positive impact as well as financial returns is appealing. But we need your help to make it happen.
Currently, there are some New Zealand impact investment funds available to professional investors, but there are no credible KiwiSaver or investment funds available to members of the public. We want to demonstrate that there is public demand for impact investing and persuade fund providers to give the public opportunities to invest in positive social and/or environmental impact.
Change will be driven by consumer demand. If enough people say that they want impact investing, we can make it happen.
Join Mindful Money's campaign for impact investment
---
How do I switch to Ethical Investing?
It's easy, free, and quick to switch
We hear from so many people that they would like to switch but they are put off by thinking it is really difficult to do. That's why we set up the Mindful Money website: we have done the research so you don't have to.
"I would like everyone to check what their Kiwisaver is invested in because it's much easier to find out than you think."
— Sandra Rogers
Choose a fund that suits you
Use Mindful Money's Fund Finder tool to find the funds that meet your criteria. We take you through three easy questions:
What values are most important to you?
What investment approach do you want to use?
What is your risk profile?
Being prudent means taking the time to find out about what's available and only investing when you have considered your options. Finding out your risk profile is one of the crucial steps in your investment decision.
"Each person has their own priorities and that's where I think the Mindful Money website's pretty cool."
— Mary Holm
Investments are often put into different categories, depending on the level of risk:
Defensive – a high proportion of relatively safe investments (such as cash or short term deposits)
Conservative – a high proportion of debt (generally bonds) and less shares
Balanced – a balance of debt and shares
Growth – mainly company shares, generally listed on seigk exchanges
Aggressive – some high growth, high-risk shares including small unlisted companies or property
If you are young and saving for the long term, you may choose to accept higher risks (on the basis that the highs and lows even out over time). Those who are approaching retirement generally prefer less risk, to ensure their savings are protected.
There is a very handy guide to finding out your risk profile on the Sorted website.
---
Make the switch
Once you've selected your criteria, the Mindful Money website shows you four options that most closely match your criteria. You can find out more using the Fund Details button, and when you're ready, choose to switch your KiwiSaver fund or make an investment. The Referral page will link you directly to the fund provider's application form.
Find a fund that fits your values.
Find a Fund
The Referral page will link you directly with the fund provider's application form. You need to have your driver's license or passport handy in order to complete the form. Then that's it. You don't need to contact your bank or even remember the name of your current fund. The fund provider will do the rest.

---
Help build the Mindful Money Movement
As a new charity, Mindful Money is trying to get the message out. We don't have big budgets for advertising, so it's up to you! Some ways you can contribute to our movement are:
Please share far and wide on your social networks and pass this guide onto others
Invite us to talk at workplaces or an event - email info@mindfulmoney.nz
Become a Mindful Money ambassador!
Donate to our charity
.
---