 Mindful Money Awards Conference 2021
Thu July 1st 2021
---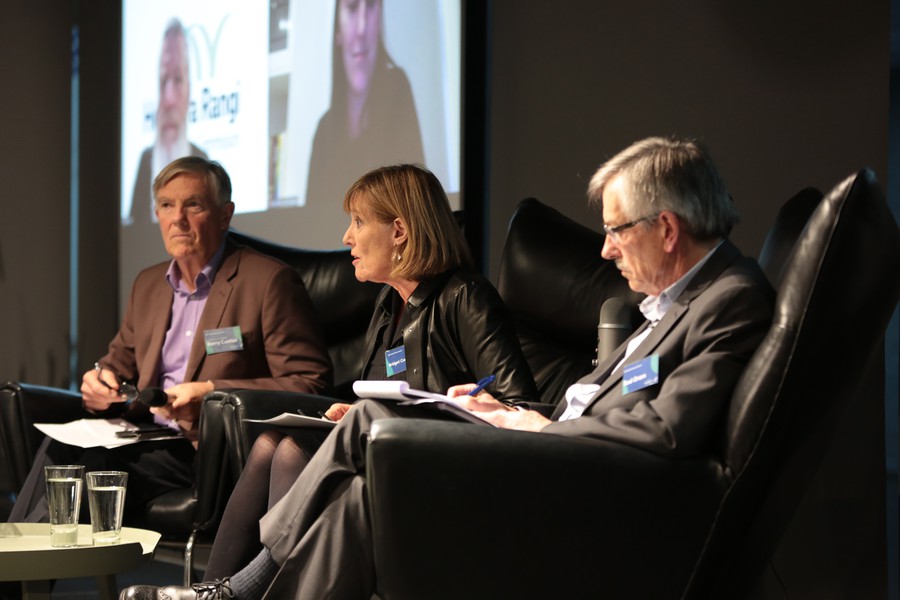 Finance for Climate Action at the Mindful Money Ethical and Impact investment Awards 2021
The inaugural Ethical and Impact Investment awards were held on 29th June at Generator in Wynyard Quarter in an event with over 200 participants. COVID restrictions meant the participants from Wellington and Australia joined online.
In opening the conference part of the event, Mindful Money's founder and CEO Barry Coates recalled that it is two years since Mindful Money launched its website to provide members of the public with transparency on their investments, and to help them find a fund that fits their values. Engaged and empowered consumers are a powerful tool for change, and there has been huge growth in public support for ethical investment. The challenge is now to shift funds from fossil fuels and the high emissions economy into climate solutions.
Adrian Orr, Governor of the RBNZ opened the conference with a wide-ranging speech, noting that the Reserve Bank is the kaitiaki of the financial ecosystem. He drew on the RBNZ Statement of Intent in focusing on their initiatives on supporting Te Ao Māori, climate risk and South Pacific remittances.
Climate change has identified as a key long term risk to financial stability. The Statement of Intent recognises that understanding climate change and climate risks is of "critical importance" to financial stability, and there are costs for some sectors that must be managed and disclosed.
Adrian encouraged fund managers to examine their portfolios to ensure that climate risk is integrated into the way they invest and allocate their capital. "We need to foster long-term decision-making with foresight for the needs of future generations of New Zealanders and work towards a zero-carbon economy. We can help support fit-for-purpose regulatory settings that encourage investment in sustainable finance and business practices."

Hon. James Shaw, Minister for Climate Change noted that our transition to zero carbon is closely interlinked with prospects for our economy – there will be short term costs, but the costs of inaction are higher and there are significant opportunities ahead. He outlined current initiatives relevant for climate finance including:
Further reform of the Emissions Trading Scheme and the development of financial instruments to hedge against higher future costs as ETS prices rise
Additional funding of $300 million for NZ Green Investment Finance (commended in the Mindful Money awards ceremony that followed the conference)
Fossil fuel free settings for KiwiSaver default funds, with the hope that fund managers would extend these policies across their portfolios
Issues of green bonds, including encouraging Treasury to issue a sovereign Green Bond
Climate Disclosure regulations now going through Parliament, as the first country to introduce legislation (likely to be closely followed by the UK, US and others)
The government's Emissions Reduction Plan, to be released later this year, will include a chapter on government financing, notably the agreements announced by the Minister of Finance to recycle ETS auction revenues into investments in climate resilience and emission reductions.
Barry Coates welcomed the panel on finance for climate action. Rod Carr, Chair of the Climate Change Commission, affirmed that finance has a crucial role to play, but noted that markets alone cannot deliver on the aims, especially where there are market failures from a lack of inter-generational equity, income inequality and mis-pricing of catastrophic risk.
There is a need for complimentary measures of legislation and regulation, education and broad participation. These are essential for the climate transition to be just, inclusive and sustainable, as well as consistent with Aotearoa's Treaty of Waitangi obligations and inter-generational equity.
He supported financial disclosure but called for it to apply more broadly across the economy. Disclosure does not guarantee an adequate response, but what is monitored and disclosed is more likely to be managed. He concluded by calling for urgent action, warning that delay will cost us more each year.
Bridget Coates outlined the key aspects of the Sustainable Finance Forum roadmap on climate finance, including:
Changing mindsets – there are huge opportunities and, with pressure to act coming through the global economy, we need to act quickly
Greening the financial system – an example is the need to consistent standards for green bonds
Accelerating finance for climate solutions
Current projects include building capacity on sustainability and sustainable finance through a micro-credentials programme; the Sustainable Agricultural Finance Initiative to harmonise lending standards across banks; and inclusive finance initiatives to cater for those excluded from the finance system.
Bridget announced that funding has been secured for the Centre for Sustainable Finance, with a secretariat and a convening role. The launch will take place on 29 July 2021. Barry predicted the establishment of the Centre will be huge step forward towards sustainable finance.
Erica Finnie, Executive Director of 350 Aotearoa, called on the finance sector to divest from fossil fuels and high emissions companies, and instead finance the transition to clean energy. She noted that the window for keeping global temperature rise below 1.5˚C is closing fast.
By continuing to fund the fossil fuel sector to lock in even more infrastructure, the finance sector has been complicit in the slow pace of transition. However, change is accelerating. Globally, institutions with over $14 trillion of funds under management have now divested from fossil fuels.
When asked why there has been continuing investment in fossil fuels, even after warnings of climate risks such as stranded assets and financial losses, Erica considered that outdated ideology and fear of change are holding financial investors back. She commended Mindful Money for bringing transparency to finance and showing investors what companies their savings are invested in.
Rod Oram, leading business journalist, observed that we live in a consequential time. He pointed out we face linked crises of climate change and biodiversity. The climate crisis contributes to biodiversity loss, but needs healthy natural systems for the climate response.
New Zealand has one of the world's highest levels of natural capital, according to the World Bank, and around 15% of our GDP comes from the primary sector. New Zealand is not yet a member of the eight countries that have pledged to create 30% of their land and 30% of their sea as protected areas by 2030.
He pointed out that there need to be parallel responses on biodiversity to climate measures. For example, there is now a Taskforce on Nature-based Financial Disclosure along the lines of climate disclosure; and proposals for a payment for biodiversity services as well as payment for sequestering carbon.
Pressure on the sustainability of New Zealand's food production is ramping up. Companies such as Nestlé set a net zero emissions target for 2050 and 71% of their emissions come from producers in their supply chain. They are looking closely at emissions in their supply chain, but Fonterra, one of their major suppliers, has not yet set a target for methane reductions. Each of us need to act with excitement and creativity. Together we can achieve a huge amount and rise to seize the opportunities.
In summing up, Rod Carr noted that setting ambitious goals often breeds success. But he warned that the voices of opposition are creating a real threat to progress. "Those who wish others to act cry loudly for that action. While those who are required to act obfuscate and explain why the action required of them is not possible, equitable or justified."
He pointed out the danger of strawmen such as around incentives for EVs and the phase out of gas as creating unsubstantiated fear. We have a duty to see these strawmen and call them out. The risks of failure are real.
The conference was followed by the Ethical and Impact Investment awards event.